Trees can add structure and beauty to any area but sometimes they just get out of hand or become damaged over time. If you have a tree that is causing issues such as root issues, disease or one that has become damaged by wind. Perhaps its just got too tall. Ian McClelland & Team are here to help. We fell trees, thin and top, remove stumps and cuttings and cut and maintain hedges.
Tree Felling
We take care of safely cutting down trees and removing all waste. Tree removal depends on available space but we have a range of specialist equipment to get the job done.
Section Tree Felling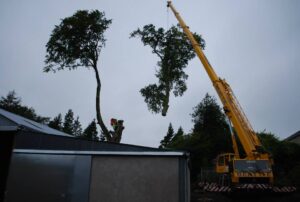 Section tree felling involves the use of slings and ropes. This is a highly skilled task where our experience comes in useful. We take extreme care to ensure no harm comes to your property and are fully insured.
If you have limited space we use this method to safely remove the tree while avoiding damage.
Branches are removed and large sections lowered from the trees crown. Then we take care of the tree stump bit by bit until the tree removal is complete.
Tree Shaping
Has your tree(s) lost it's shape or become unsightly. McClelland Tree Services are fully trained to shape trees and woody plants into artistic shapes. We use various techniques such as pruning, braiding, weaving, framing, bending and grafting to achieve the desired finish.
In many cases the aim is to tame the tree and help rectify odd shapes.
Tree Thinning
Thinning is important when there are many trees. By removing the weaker and smaller trees, the stronger will develop much better. Thinning must be done thoughtfully and carefully to ensure the desired outcome. Talk to our highly experienced team to find out more.
Crown Reductions
Crown reductions are carried out by removing branch tips and pruning the tree to a growth point. This can help reduce the size of the tree and remove any decay or disease before it spreads.
Crown reductions are popular when there may be a danger to life or property when the roots may not be able to support the tree. Although we tend more to use crown thinning techniques over reductions where possible.
We can carry out a survey before any works commence and give you the various options.
Stump Removal
Stumps can be left in the ground after tree removal in many cases. Although we also have the appropriate equipment to remove tree stumps if required. It may be that they are considered unsightly or have the potential to form new shoots. Removing the stump is a little extra work but we are always on hand to do it as fast and efficiently as possible.
Storm Damage or Disease in Trees
We can provide tailored fast services to you if you need your issue dealt with quickly. It's common for trees to blow down and block roads and access routes. Trees brought down can be a danger to life and property so we can cater for emergency call outs.
Get in touch for a FREE quote
We know that every job is different. We can call and discuss your requirements and provide a no obligation quotation free of charge. We try to fit in with your schedule as much as possible.
Our team work 6 days per week so we can schedule works in to suit you.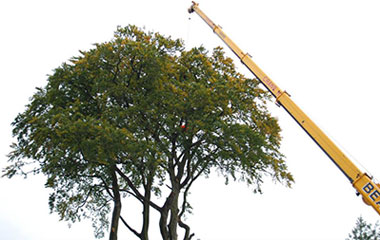 Call The Pro's
McClelland Tree Services aim to provide a professional service to you and get your job done quickly and efficiently. We have an experienced team who are fully insured and trained to carry out all works safely. Trust us to get your job sorted with minimal disruption.
Address: 211 Finvoy Rd, Ballymoney, BT53 7JS